i've felt something has been missing from my life and I really think a tiny fraction of that void has to do with the fact that i haven't been venting out / sharing my feelings into my journal

well the garden of gogelio is back in full force (again...) - i've prolly revived this thing a million times since I first started this back in 199X - can't believe this journal dates back that many years - its fun to look back that far

and now i have it forwarded to facebook - could be a bad or good thing - prolly more bad

ah well - i'll stop ranting

enjoy your nights - will write again later tomorrow/today

welcome back spring - welcome back journal
reviving the journal - fuck it whatever - gotta jump start this shit again
Current Location:

my apartment

Current Mood:

amused

Current Music:

daily show with john stewart

before they become reality
he rushes through each day
in search of something he can't see
june loves the sound of freedom
she cringes when she's caged
she launches fleets of battleships
when anyone invades
it's a leap of faith to commit yourself
it's a risk you have to take
one side always wants it more
one side's heart will always break
tom falls in love with ideas
The drive up was beautiful - The highway runs right a long the coast on one side, and mountains on the other - no other highway will ever look as beautiful as this one... of course, we'll always have 287, 80 and 280... not to mention the beautiful parkway and turnpike... ::shudders::
We arrived to totally different weather than San Diego (it's funny how 2 hours of driving north can change the weather so drastically) - This time of the year, LA experiences a weather pattern they like to call "June Gloom" which is exactly what it sounds like... overcast all the time... We had some moments of Sun, but not really...
We checked into a Days Inn with some fun interesting pictures painted on the doors from movies, like the Stay Puffed Marshmallow Man, Indiana Jones and The Delorean from Back to the Future... We met up with Christian shortly after and grabbed drinks at his favorite local spot "The Palms" - They have an amazing beer menu - mostly all local brews - I don't think they even had a Bud or Coors tap in that place - We ate some food that made us all really tired, but decided to head over to Germ's other favorite place "The Well" - I enjoyed The Well a lot... The place is very dark inside... the lights extremely dimmed, no TVs on the wall... it's really chill... not to mention, the Juke Box was awesome (no crap... just all rock n' roll), and the Bar Tender was extremely gorgeous... We finished the night off and headed back to our Hotel
Thursday, we went to the la brea tar pits and looked at gigantic skeletons of Wooly Mammoths and gigantic pools of tar where tons of fossils were found... it was interesting... I got tar on my hands... Then we spent the rest of the day driving around Beverly Hills looking at rich people and their houses, and then eventually into Santa Monica... The traffic in LA sucks... So it took a while - We drove by the beach and then ended up at this place called "Margaritas" on the 3rd Street Promenade... Our waitress was pretty / fake / but nice enough... She served us gigantic margaritas and 2 for one Sol Beers for hours... I actually really don't know how long we sat there... We got out of there just as the Lakers game was getting interesting... Thank goodness too because I hate the Lakers... We walked the Promenade for a little - There were musicians set up playing all over the place... mostly drummers and guitarists... Drunk Geronimo decided he wanted to play one of the drummer's kits, so he tipped the guy and started playing... and then decided to give him a lesson on a beat he knew... it was entertaining... Ken did the same with a dude playing guitar... ah drunk ken and christian playing instruments in the middle of LA... it was great :-) too bad there wasn't some dude playing a piano otherwise I would've joined in too - The day ended with us chilling back at the Hotel outside the room, getting told to be quiet by the staff at 2am, heading back to Geronimo's apartment, watching about 45 minutes of a movie called Time Crimes and then hobbling back to the Days Inn very tired
Friday was my favorite day in LA - In the morning we grabbed breafast at the 101 Cafe where we saw our first star sighting Adrian Grenier... afterwards Geronimo gave us a tour of the famous Capital Records building (where he works) - We got to see the Mastering Studios where they showed us a demo of how they redid a Pat Benatar record... It's amazing how different the new remastered recording sounded from the original as he showed us back to back... the drums sounded like they were recorded yesterday... We wandered around the building a bit, saw Germ's office, went to the roof, got a really nice look of the Hollywood sign and the rest of LA, and then went down to the studios... There are no words really to describe how cool it felt to stand in the studios where so many famous musicians recorded... The coolest part by far was when they let me play Nat King Cole's piano (Steve captured some video... hopefully he'll post it) - After the Studio, we headed over amoeba records (the world's largest Independent Record store). The store was amazing... two levels of awesomeness... While I was taking a peek at the music DVDs, I was alerted that Quentin Tarantino was walking around shopping... So I went and looked for him only to find him walking straight towards me... I wasn't star struck or anything... he was just a normal old douche wearing a crappy old ACDC shirt, a leather jacket and jeans... I resumed my shopping shortly after... the rest of the day was spent back at Germ's pad to rest up... we went out to the Palms again and hung out with his work buddies, played some bar games like darts and intense shuffle board... headed back to The Well again to close the evening... gave Germ goodbye hugs and back to the Hotel we went... we had to drive back to San Diego the next day to catch our flight...
The drive back was a little sad but nice... When we arrived back into San Diego, the weather was again all of a sudden perfect... We grabbed lunch at an In N Out Burger... it was awesome :-) headed back to Buck's grabbed our stuff, and on to San Diego Intl we went... I gave Buck a huge hug and promised I'd return next year with Karen... The flight back was really shitty... we hit a huge pack of turbulence halfway through because there was a storm to left and right of us and we were flying right through the middle... just a whole lot of up and down and shaking... I hate flying as it is... to be 15 miles high, and feeling like the plane is all of a sudden going to go into a nose dive does not sit well with me :-/ we landed in Newark, and the passengers clapped... I guess they felt the same as me
My Limo picked us up in a big stretch limo... it was a nice touch to the end of our trip... very comfy and roomy :-)
And that's basically it... I drove back to Montclair, slept and here I am
It's good to be home, I'm gonna go grab a cup of coffee and continue to miss my two great friends on the West Coast, the weather and the In N Out Burgers
Enjoying my Time on Earth :-)
PS: Here are some Photos of LA from my phone...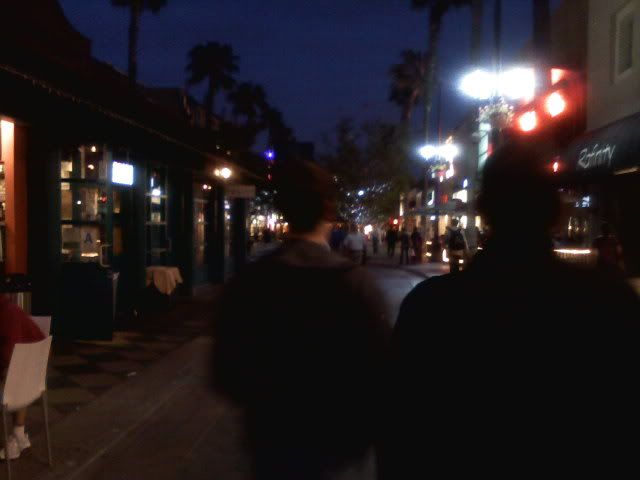 3rd Street Promenade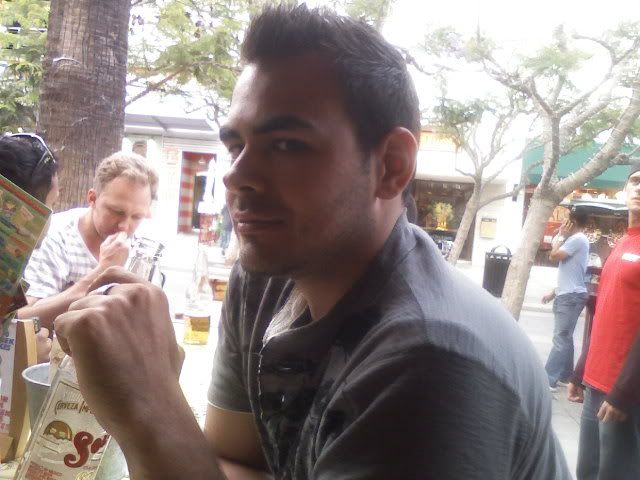 @ Margaritas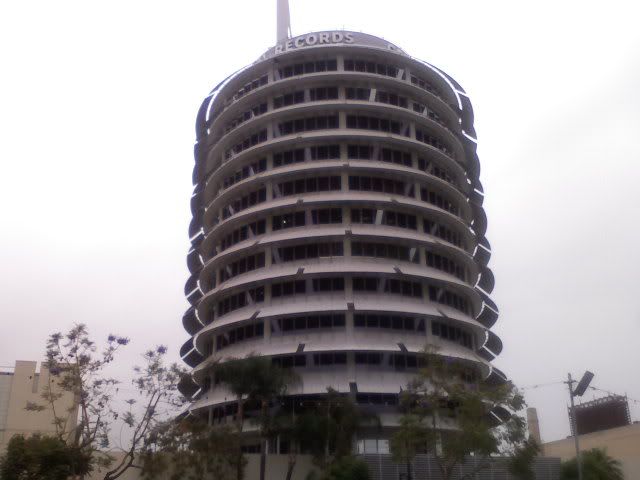 Capital Records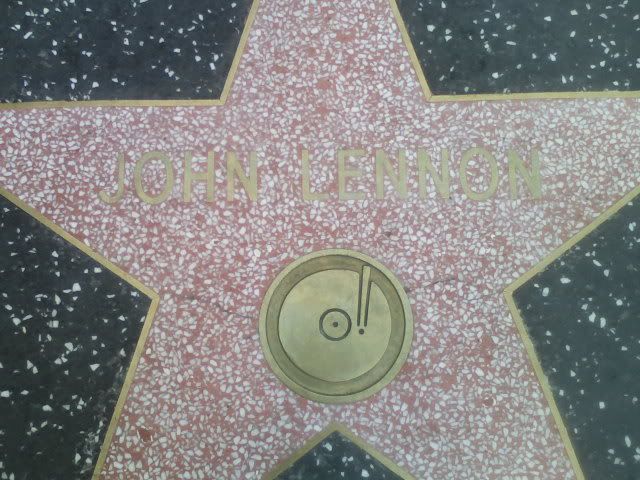 John's Star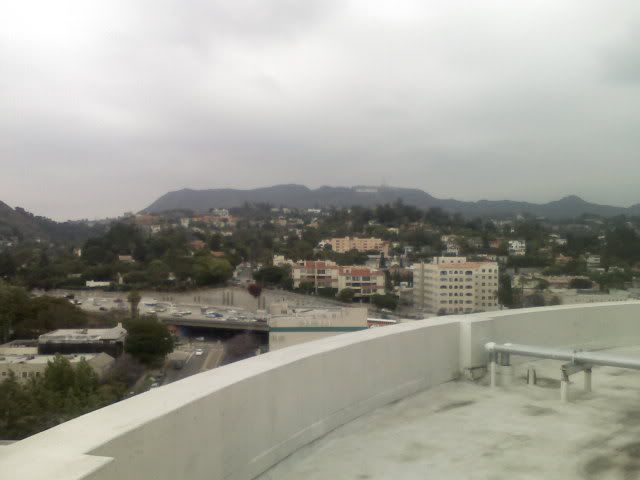 June Gloom from Atop the Capital Records Building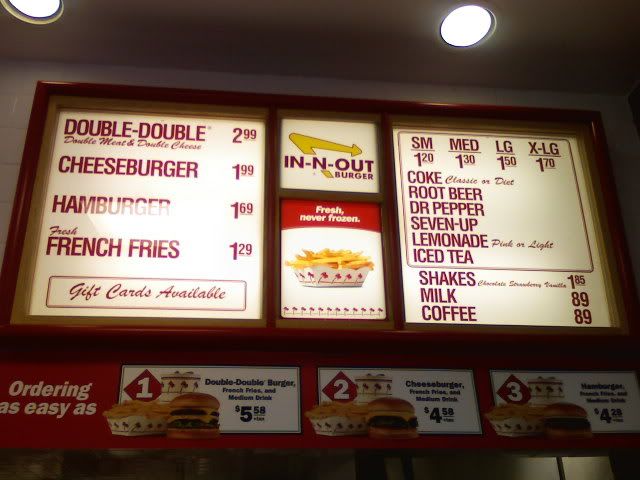 "Those are Good Burgers Walter..."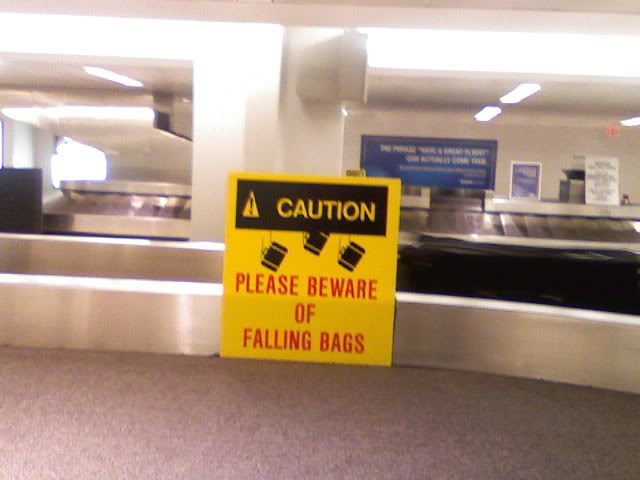 Funny Picture from Baggage Claim, Newark NJ
The remainder of our trip was spent up in Hollywood / LA (same thing really...)
Current Location:

Home

Current Music:

DMB (Spaceman)


After the zoo we did some scenic driving along the coast, and then grabbed some dinner at a nice (but not too fancy) restaurant - Steven found out his new favorite beer is Moretti La Rosa, Ken found out that he still likes pizza, Chris found out that his old friends really haven't changed much, and I found out that I still want to move out to San Diego one day

After the restaurant, we were pretty beat from walking and extreme eating all day, so we decided to go to CVS, get ice cream and red bulls, and then head back to Chris's place to play the new Punch Out for Wii. I got all the way up to Mr. Sandman, but by that time, it was 2am, I was very drunk, Steven and Chris were passed out... Ken was passed out too, but of course that happened like 2 hours prior... so I gave up and passed out myself

Today we are headed to LA to see Geronimo, see some movie stars, and tar pits (apparently)... before we go though, we are going to have a few beers, do some laundry and watch Chris play some Punch Out classic (1987 style!) - He actually just started as I'm typing this... Facing Glass Joe... good times

I should wrap this up though... I have an open beer waiting for me that I can't reach while typing, because I'm on a couch... and I'm running out of clever witty things to say... I'll save them for the LA portion of this trip

peace in the east, awesome times in the west
The San Diego Zoo is a beautiful place, but walking around in it is a major challenge. The exhibits are very large and the trails are very steep sometimes - We saw some awesome apes and monkeys, smelly (but awesome) elephants, some crazy birds, giraffes and basically anything else you could think of which goes in a zoo - There was a panda exhibit too which is pretty famous, but the line to get in was retarded, so we said fuck it


It is Tuesday and I haven't had the chance to write since Sunday so I'll catch you all up

Sunday turned out to be an amazing day - We went over to seaport village, which is basically like a clean / amazing version of the boardwalk in NJ - We ate greek food, ordered a couple pitchers of beer, laid out on this amazing soft grass, watched a young couple do dirty things under a blanket, bought some funny souvenirs, sampled some hot sauce at this place called "hot licks" (i kid you not)... a fine afternoon

That evening we headed over to Coronado Island - The drive over was amazing - We crossed this huge tall beautiful bridge that kinda reminded me of the Palaski Skyway... only less ugly and deep blue water and paradise surrounds you instead of Newark factories - We hung out on the beach for a little, made funny pictures in the sand of penis's and boobs and whatnot and after we got bored with that, we made our way over to the Coronado Hotel... Apparently it is one of the most haunted places in the world... the place was beautiful... built in 1888 and still looks exactly the same... obviously it's been renovated and whatnot (i'll post pictures when I get back... you'll see) - we hung out at this outdoor bar, our bartenders name was Jose, we watched another amazing sunset, bullshitted about life and continued to have an amazing time

Afterwards, for late night activities, we headed over to the gas lamp district which is kinda like San Diego's version of a downtown New York bar hop - We watched people do bad karaoke, met a really trashed girl who asked if we were Mexican, I of course answered yes, and when she asked where we were from, SteProxy-Connection: keep-alive Cache-Control: max-age=0 n said Brooklyn, and I said... "yeah Tijuana Brooklyn... then for some reason the girl asked so wait... where in Norway is that? it was entertaining

That was pretty much Sunday

Monday we hung out at Balboa park... which is most definitely more than a park... there are tons of museums (space, art, history, automobile, you name it)... We hung out in a botanical garden which would seem like an odd place for four guys to hang out together, but it was very nice... We bought astronaut ice cream at the space museum, checked out an SR71 Blackbird (the plane the X-Men fly)... it was another amazing after noon

That evening, we headed over to Chris's Dad's home... which is... well no words can describe it... it's a beautiful beautiful home - Just gigantic, but crafted with class... many many rooms, and fun hallways to get lost in, a beautiful courtyard in the backyard that overlooked a valley, there was an amazing pool, a guest house, there was even a freakin huge doll house that kids could use (if he had kids that age... of course you know we went in it and snapped a picture (again... i will share pictures when I return). We played football out by the pool for a little while and then went inside (very winded)... we ate a feast of steaks, green beans, onions, avocado salads, and then coffee and cheesecake for dessert... It was really nice seeing Mr Buckenmayer again too... it's been like 9 years or something like that... I've always loved that dude... great people

I don't want to keep this too long but there was a lot to catch you all up on

This afternoon, we're going to the San Diego Zoo and then Chris has some other stuff planned for us... which probably involves beers and good mexican food

Right now it's about 11am - we're gonna go get some coffee at this awesome cafe down the street (which we've gone to every morning) and then hit the road of adventure

enjoying my time on earth

J
So obviously I don't need to talk about the weather... it's beautiful... and I don't want to rub it in... especially since I know my loving friends and family are dealing with thunderstorms and days of non-stop rain back home...


I am sitting in my friend Chris Buck's bedroom at his computer - Steven, Kenneth and Chris are playing this video game in the other room as we prepare to embark on today's activities.

The flight to San Diego was uncomfortable for me, but Ken and Steve both thought it was fine. I get very nervous on flights... never been a fan... I go through all these worst case scenarios in my head... engine failure, mechanical failure, crashing into a mountain failure... The thing that made it difficult for me was the state of mind I was in...

The night before we left, I packed up my clothes and toiletries and awaited a phone call from Steve (I was supposed to pick him up from his mother's house after he drove home from Brooklyn)... well time passed, 1 am rolled around, and I still hadn't gotten a hold of him... finally (i guess) somewhere between 1:30 and 2 he calls me back and says he ran out of gas on the west side highway, and he was stuck in the middle of the road (cars flying by... dude was not amused) long story short, the cops helped him out (got his car to the side of the road), and then I guided him (via google maps) to the closest Luk Oil (god bless Russian oil), and he made it back to his mothers by around 3am - I picked him up, we made it to Millburn (ken's place), passed out, and then woke up maybe 2 hours later (car service was picking us up at 6:30am... so needless to say, I was tired, my nerves were shot, there was a lot of turbulence (in my opinion), my stomach was hurting me... the only thing that helped calm me down was watching Indiana Jones and the Last Crusade on Ken's iPhone

So we made it San Diego... The weather is untouchable... You cannot beat it... It's not hot, but it's not cold... It's just comfortable... So comfortable that you could either swim, or wear a light jacket and you wouldn't be cold, and you wouldn't sweat... I do not know how it's done... it just kinda works

Yesterday (after we landed), we ate lunch at Chris's favorite Thai Food restaurant, and then made our way to his apartment/house. The place is amazing - Beautiful house on a beautiful street (the street almost reminds me of the street Eliot lived on in ET...) it's a two level house, he's renting a room out of, but he has free rein over everything. Downstairs: The kitchen is huuuuuge; in the other rooms there's a pool table, foos ball table, gigantic globe of the earth, nice 40 inch tv downstairs with a beautiful sectional couch... the backyard has a fire pit and a tiki bar... upstairs are some bedrooms and this AWESOME room with a gigantic gigantic projection screen hooked up to the cable and the playstation 3... when you play video games on it, the characters are life sized... it's scary :-)

anyways, after we hung out at his place for a bit, we made our way down to PB beach (steven calls it Peanut Butter beach)... the girls are beautiful (there are the occasional fake boob'd girl... but most of them are awesome)

We chilled out on the beach, watched the sunset, drank some beers, and made our way back to his pad and passed out

today we are going wandering

they are making me get up to leave

okay bye!
Greetings from Sunny San Diego
travel light
airport bars
horror film
carousel two
why can't it always be like this?
my newest project being worked out in my head, my heart and into some music recording software on my computer... i promise to actually share it this time...
Current Location:

work

Current Music:

supermodel (PUSA)
I've actually attempted a few times to put something in here, but quickly decided it wasn't the right time to say anything. I don't know why I feel compelled now to jot something in here, but here I am.
It's April 9th and I can just feel the season chipping away (ever so slowly) at the cold - surprisingly though, I woke up this morning to a frost on my car's windshield. but ironically heard birds chirping in the trees - this is always such a strange time of year because it feels like we're stuck in a Chinese finger trap with winter on one side and summer on the other.
There's this album called "Waltz for Koop" - Whenever I listen to it, for some reason it reminds me of hanging with Christian in Rutherford - Late night Dunkin Donuts runs, that bench across from the crazy jesus books store, that crappy bar on the other side of the tracks (but hey at least it was a bar), taking the train to NY, drinking absinthe in the kitch-living-room-in, blasting music (particularly that record), and just having a flat out great time - i miss it all very much
Those are the best kinds of records though - Ones that can open up a rift in space, and let you look in on a memory - It's like time traveling but easier, and less dangerous
Hopefully the weather decides to make up its mind soon - Waking up in the morning cold, walking out to my car cold, and sitting at my desk sweating (mainly because the people in this office jack the heat up) is getting old - Another chinese finger trap type situation...
It's April and I haven't made a post yet
Current Location:

work

Current Music:

Relaxin' at the club F***n - Koop


it's a wonderful song, but cannot be fully enjoyed unless listened to in context with the rest of the album.

recently billy corgan and the pumpkins (aka: billy corgan) posted this: PUMPKINS DRUM UP INTEREST: Auditions will be held Friday, April 10, in L.A. for drummers who are looking to play with the Smashing Pumpkins and are able to put up with Billy Corgan. Send background info, photos and performance web links via e-mail only to: pumpkinsdrummer@gmail.com. This gig is apparently more treacherous than playing for Spinal Tap.(3/30p)

this post not only depresses me but it causes me to lose respect for billy corgan as an artist - he should not ride the pumpkins name like a crappy old bicycle - especially after what was created prior (see above) - the smashing pumpkins are comprised of billy corgan (the brains), d'arcy wretzky, james iha, and jimmy chamberlin - they should not exist in any other shape or form - without the other 3, billy corgan hasn't been able to write and produce a successful album since melon collie - he's had his moments, but nothing can be compared - Chamberlin's drug issues and Jonathan Melvoin's (touring keyboardist) overdose are what caused the group to fall apart (the firing of Jimmy Chamberlin, the album adore, d'arcy quitting, the album Machina, then shortly after: James quitting... then the re-hiring of Jimmy... zeitgeist... ugh shall i go on? what a mess...)

when a band has a certain dynamic, you can't recreate it without the people originally involved and expect the same results. billy can go on denying this all he wants, but he will never be able to go back. that door is closed. everything performed now at this point is heard from a nostalgic listener's ears

i unfortunately am still hanging on and waiting for that galapogos though to tell me they aren't done yet...
not all songs are meant to grab you by your heart and soul and transport you to another place. and not all songs are meant to be a story-telling event either. galapogos by the smashing pumpkins achieves both for me. this song is a crowning moment on the album, melon collie and the infinite sadness. the record is like a musical, and this track is the number that makes you think everything is going to be okay before act one comes to a screeching unresolved halt.
Current Location:

work

Current Mood:

busy

Current Music:

nude - radiohead


- Anne Morriss (text from the back of a starbucks cup)
The irony of commitment is that it's deeply liberating - in work, in play, in love. The act frees you from the tyranny of your internal critic, from the fear that likes to dress itself up and parade around as rational hesitation. To commit is to remove your head as the barrier to your life
Current Location:

work

Current Music:

people make the world go round (the stylistics)